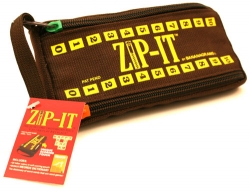 Zip-It is another great on-the-go word game from Bananagrams. Its the 20 second crossword race that you can play any place! The bag not only provides storage for the letter dice but it also doubles as a nifty scoring pouch!
Zip-It is a clever take on crossword creation, and the ultimate travel game to generate fun in quick moments -- one hand can be played in as little as 20 seconds. Players use 24 beautiful ivory-like letter cubes to form their own crossword grid using ANY side of the cubes. The first player to use ALL their own cubes calls "ZIP!" and scores a point by moving their own zip up the pouch scale. The first person to score 10 points shouts "ZIP-IT!!" and wins the game!
The contents of Zip-It:
24 letter cubes
storage/scoring pouch
bonus Weords Dictionary--the dictionary of weird words that help win word games!
Published by: Bananagrams
Information provided by retailer. Used with permission. All rights reserved. Price and availability are subject to change without notice; click through to retailer for most current pricing. Last Update: Tuesday, November 20th, 2018