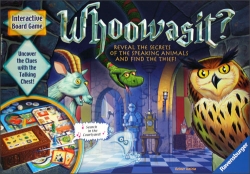 In the interactive Ravensburger Whoowasit? board game, players explore a castle in search of a stolen ring. The ring protects the kingdom against the evil wizard. The castle animals witnessed the thief during the night and can give clues to what the thief looks like. Only children can understand the animals when they speak, so it all depends on you to save the kingdom!
Two to four players work together to find the magical ring by seeking food, communicating with animals, and collecting clues to find the thief before the time runs out. The clues supplied by the electronic treasure chest ensure that no two games are alike. By pressing the buttons, you will choose whether to search the rooms, speak with the animals or engage in magic. All players must work together to find the stolen ring, and they win or lose as a group, depending on whether they can master an assigned task.
Designed for children ages seven and up, Whoowasit? helps reinforce memory, strategizing, and teambuilding skills. The chest contains intelligent electronics that ensure each game is different and exciting every time. Requires 3 'AA' batteries (not included).
Awards won by Whoowasit? include the Disney Family Fun Toy of the Year, Creative Child Magazine Game of the Year, The National Parenting Center Seal of Approval, and the Children's Game of the Year in Germany.
Contents of Whoowasit? Interactive Board Game:
1 Magical Chest with Electronics
1 Game Board
4 Playing Pieces
1 Ghost
1 Cat Game Board
9 Food Tokens
4 Key Tokens
4 Door Tiles
1 Die
10 Suspect Cards
1 Ring
Instructions
Published by: Ravensburger Games
Information provided by retailer. Used with permission. All rights reserved. Price and availability are subject to change without notice; click through to retailer for most current pricing. Last Update: Saturday, December 23rd, 2017