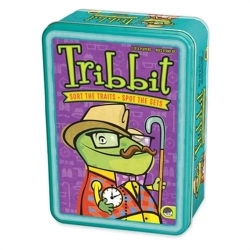 Tribbit is a fun exercise in visual discrimination. The frogs on the 112 cards have a number of similarities in their fashionable outfits -- maybe it's their canes or their vests or the hats perked jauntily atop their heads. Players need to spot all these similarities and strategize how to sort them to create the most sets of three to earn tokens and win the game.
Players are each dealt 16 frog cards. Which frogs have vests? Glasses? Spot the traits and sort the frogs into sets of three. Think a frog belongs in the "moustache" mix? You might need to think again and group him with the cane-carrying crew to complete more sets. The first person to assemble five full frog sets earns two tokens. Set the timer and the remaining players have a chance to score. Earn five tokens and you win the game!
Tribbit includes 112 full-color cards, 25 tokens, token pouch and timer. This game is recommended for two to six players, ages 8 and up.
Published by: Mindware Games
Information provided by retailer. Used with permission. All rights reserved. Price and availability are subject to change without notice; click through to retailer for most current pricing. Last Update: Saturday, December 23rd, 2017