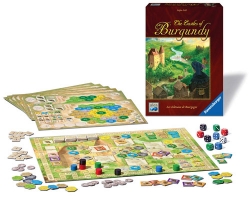 15th century princes from the Loire Valley devote their efforts to strategic trading and building in order to bring their estates to prosperity and prominence. Over the course of 5 rounds, collect the most points by trading, live stock farming, city building and scientific research to win!
The game is set in the Middle Ages in France (Burgundy). Players assume the role of an aristocrat and reign over a small princedom. While playing they aim to build settlements and powerful castles, practice trade along the river, exploit silver mines, and use the knowledge of the travelling people.
This exciting game is challenging and brings out the competition for an evening of fun!
Contents of The Castles of Burgundy:
1 Game Board
6 Player Boards
Tiles

6 Buildings
28 Livestock
26 Knowledge
16 Castles
12 Mines
26 Ships
42 Goods
20 Silverlings
30 Workers
12 Bonus
4 Victory

8 Playing Pieces
9 Dice
Instructions
Published by: Ravensburger Games
Information provided by retailer. Used with permission. All rights reserved. Price and availability are subject to change without notice; click through to retailer for most current pricing. Last Update: Saturday, December 23rd, 2017