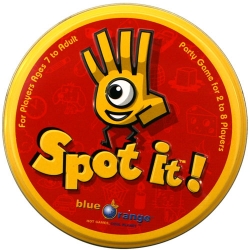 There is always one, and only one, matching symbol between any two cards in this game. Spot it and you win! There are only eight symbols on each card, but two matching symbols may be different sizes. This challenge increases as new cards are quickly revealed in this fast-paced game.
Spot it! is a party card game consisting of 55 cards, each decorated with 8 symbols. There are more than 50 different symbols in all. One - and only one -matching symbol exists between any two cards. There are 4 fast, challenging mini-games to play. No matter which mini-game you're playing, the goal is always to be the fastest player to spot the matching symbol between the two cards and call it out. The player who wins the most mini-games is the Spot it! champion!
2010 Major Fun award winner.
For 2-8 players
Takes 10-20 minute to play
Spot it develops visual perception and matching skills
Travel size
Contents of Spot it!:
55 Cards
Illustrated Rules
Published by: Blue Orange
Information provided by retailer. Used with permission. All rights reserved. Price and availability are subject to change without notice; click through to retailer for most current pricing. Last Update: Saturday, December 23rd, 2017