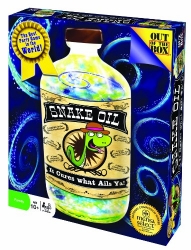 In the Old West, the sly snake oil salesman had a special talent -- getting the most skeptical customer to buy the most dubious products. Now it's your turn! Invent your own crazy two-word products and sell them to all types of customers. If the customer buys your product, you win!
To begin, each player takes six purple word cards. The customer for the round draws a red customer card and announces it. Inventors quickly combine two purple word cards from their hand to form a crazy new product to sell to that customer. When ready, they put their two word cards face down on the table. In clockwise order, each inventor quickly pitches his or her product directly to the customer. The customer decides which product to buy and gives the inventor of that product the round's customer card as the prize. Inventors discard all used word cards and take two new word cards each. The player to the left of the customer becomes the next round's customer. Play repeats until each player has been the customer once. Whoever collects the most customer cards wins.
With over 280 wild words and 70 oddball customers, you will never run out of new combinations. Believe you me folks, Snake Oil will cure your doldrums and have your friends and family rolling in laughter! How would you sell a Burp Balloon to a ninja...or a Rumor Mirror to a teacher? Make it s-s-serious, s-s-silly, or s-s-slimy. That's-s-s the art...and the fun...of Snake Oil!
Awards Received: 2012 MENSA Award, Major Fun Keeper Award, Dr. Toy Award
Ages 10+ and 3-10 Players
324 Word Cards and 36 (double sided) Customer Cards
Published by: Out of the Box
Information provided by retailer. Used with permission. All rights reserved. Price and availability are subject to change without notice; click through to retailer for most current pricing. Last Update: Saturday, December 23rd, 2017