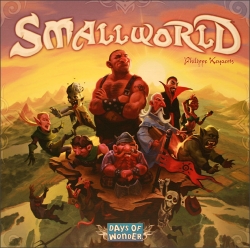 The world isn't big enough for everybody. Somebody has got to go and in Smallworld it's up to you to decide who! It's race against race in Smallworld, a territory building and area control game for those with annihilation in mind.
There are fourteen unique fantasy races to choose from that include Trolls, Giants, Dwarves, Ratmen, Skeletons, etc. Twenty special powers will aid the races in their struggle to dominate the world. After choosing a race and special power combination, players must use their unique racial traits and skills to overrun and annex surrounding regions and amass Victory coins. By placing Race tokens in various regions of Smallworld and through hostile takeover of adjacent lands, you earn Victory coins for each area you occupy at the end of your turn. Becoming overextended in your bid to rule Smallworld is commonplace, and if you find yourself in such a position, you will probably find it is best to abandon your weary civilization and look to create another. Therefore, the key to victory is to know when to create ruin for your civilization and jump on board with another already on its way to absolute rule! When the Game Turn Marker has reached the last spot on the Game Turn Track, the game ends. The player who has earned the most Victory coins is declared winner of the game.
Smallworld comes with 2 double-sided games boards: One board for 2-3 player games and another larger board for 4-5 player games.
Contents of Smallworld:
2 Double-Sided Game Boards, one for each player configuration
14 Fantasy Races with matching banner & tokens
20 Special Power badges
10 Troll Lairs, 9 Mountains, 6 Fortresses, 5 Encampments, 2 Holes-in-the-ground & 1 Game Turn Marker
2 Heroes & 1 Dragon
109 Victory Coins
6 Player Summary Sheets
1 Reinforcement Die
1 Rules Booklet
1 Days of Wonder Online Access Number
Published by: Days of Wonder
Information provided by retailer. Used with permission. All rights reserved. Price and availability are subject to change without notice; click through to retailer for most current pricing. Last Update: Saturday, December 23rd, 2017