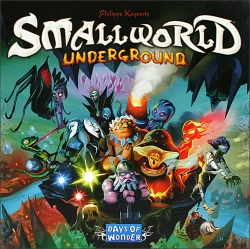 What with all the buried remnants of past generations, space in Small World is even tighter underground than above. Your ancestors hopes for you to carve out an underground empire are in jeopardy -- others have dared to burrow beneath your land, leaving little space for the living or the dead!
Small World Underground is a stand-alone game set in the same fun, light-hearted Small World universe of epic conquests and fallen empires. Featuring new Races and Special Powers, it also introduces a new twist to the original game play - Monster-occupied regions that protect Relics and Places of great power. While more daunting to conquer, these bestow even greater powers to their owner.
Small World Underground can be played on its own or combined with other Small World game elements, as many of the Races and Sepcial Powers from the original game and previous expansions are compatible. Recommended for experienced Small World players, the game includes: 2 double-Sided Game Boards, 15 New Fantasy Races with matching banners and tokens, 21 New Special Power badges, 9 Popular Places and 6 Righteous Relics, 106 Victory Coins, dozens of additional special tokens, 5 Player and 1 Game Turn Summary Sheets, 1 Reinforcement Die, and Rules Booklet.
Published by: Days of Wonder
Sorry, but this game is not available at this time.
Information provided by retailer. Used with permission. All rights reserved. Price and availability are subject to change without notice; click through to retailer for most current pricing. Last Update: Saturday, December 23rd, 2017