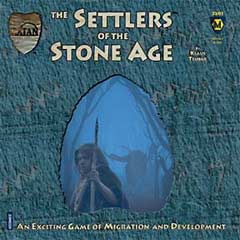 Master game designer Klaus Teuber has developed this game based on the acclaimed system from his award-winning master-work, The Settlers of Catan.
In this exciting game of migration and development, players travel back to the dawn of mankind. The cradle of modern humans was located in Africa, and the first branches of this family began a journey that spanned thousands of years, eventually leading them to Australia and America.
Players guide the journey of one of those branches, striving to spread their people over the whole world. There are many keys essential for survival, such as developing advances in food preparation, improving hunting techniques, and acquiring enough warm clothing. The player that is able to obtain the most raw materials, settle in the most productive lands, and penetrate the farthest into Australia and America, will end up on top.
For 2 - 4 Players, Ages 10 and Up.
Contents: 1 game board, 4 overview cards, 10 desert tiles, 18 exploration counters, 32 tribe tokens, 2 enemy figures, 80 resource cards, 10 victory point cards, 2 figure stands, 20 camps, 16 progress markers, 8 explorers, 2 dice, and 1 rulebook.
Published by: Mayfair Games
Information provided by retailer. Used with permission. All rights reserved. Price and availability are subject to change without notice; click through to retailer for most current pricing. Last Update: Saturday, December 23rd, 2017