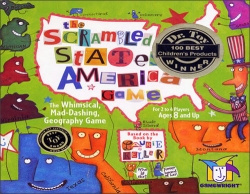 The Scrambled States of America Game is the whimsical, mad-dashing geography game! Find a state that ends with the letter "A". Now locate one that borders Tennessee. Have fun learning about the United States in this madcap game of observation and quick reflexes. Collect cards by matching states to a Scramble card, or "Go the Distance" and find a state's closest neighbor. Whoever scrambles to match and collect the most state cards wins! This game has been awarded the Oppenheim Toy Portfolio "Best Toy Award" Gold Seal as well as the Dr. Toy "100 Best Children's Products" award.
Contents of the Scrambled States of America Game:
50 State cards
50 Scramble cards
4 U.S. maps
Instructions
Published by: Gamewright Games
Sorry, but this game is not available at this time.
Information provided by retailer. Used with permission. All rights reserved. Price and availability are subject to change without notice; click through to retailer for most current pricing. Last Update: Saturday, December 23rd, 2017