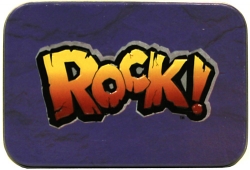 You'll need a sharp eye and extremely quick wit to win at Rock! This fast moving card game for ages 7 and up plays like Rock, Paper, Scissors with each game taking only about 2 minutes to finish. Both players get an equal amount of cards which have different pictures that represent rock, paper, or scissors. Simultaneously, each player flips the top card from his or her draw pile, face up on the table. Next, they race to call out the name of the winning card. The first player to correctly call out the name of the winning card collects both cards. Play continues until all cards are played and the player with the most cards at the end wins Rock!
Contents of Rock!:
60 Rock! Cards - 20 of each: Rock, Paper, Scissors
Travel Tin
Quick Play Rules
Published by: Out Of The Box Publishing
Sorry, but this game is not available at this time.
Information provided by retailer. Used with permission. All rights reserved. Price and availability are subject to change without notice; click through to retailer for most current pricing. Last Update: Saturday, December 23rd, 2017