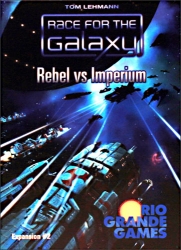 Expand your Race for the Galaxy with Rebel vs Imperium. While the Imperium is busy expanding its reach, the Rebel worlds have started political and military alliances. Can you assemble a rich and powerful space empire strong enough to withstand the many forces at work in a galaxy where conflict rules?
The Rebel vs Imperium expansion introduces new start worlds, goals, and game cards. It includes action cards and VP chips for a sixth player and has takeover rules to Race for the Galaxy and its first expansion, The Gathering Storm. New solitaire game counters and info to help players keep track of their military and takeover status are furnished.
Please note: This is not a stand-alone game. A copy of Race for the Galaxy is required to play. Although a copy of the first expansion, The Gathering Storm, is not required, it is strongly recommended.
Contents of Race for the Galaxy - Rebel vs Imperium Expansion:
3 New Start Worlds
9 Action Cards for a Sixth Player
41 Game Cards
5 Goal Tiles
6 Slides
3 Counters
24 Cubes
7 Victory Point Chips
4 Token for Solitaire Game
Published by: Rio Grande Games
Information provided by retailer. Used with permission. All rights reserved. Price and availability are subject to change without notice; click through to retailer for most current pricing. Last Update: Saturday, December 23rd, 2017