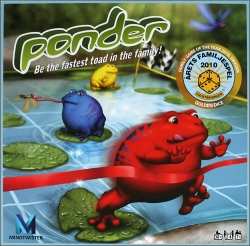 Welcome to the pond! You are just in time for the annual Toad Race. The aim is to get your team over to the other side of the pond before everyone else. But your toads are not very fit, so the need lily leafs to step on to cross the pond. The pond is crowded and you may only move as the cards tell you. Ponder is a fast, fun and strategic race game for the whole family. Ponder was voted the Family Game of the Year in Sweden!
How will you get your fat, lazy, (but adorably cute) frogs to the other side of the pond before your opponents do? Each player advances their three frogs via movement cards and by placing and replacing lily pads to help you and hinder you opponents. Ponder features some of the familiar elements of Chinese Checkers and Chess, but is far less complicated.
Ponder includes:
one game board
12 toads
60 movement cards
28 lily pads
Published by: Mindtwister USA
Sorry, but this game is not available at this time.
Information provided by retailer. Used with permission. All rights reserved. Price and availability are subject to change without notice; click through to retailer for most current pricing. Last Update: Saturday, December 13th, 2014