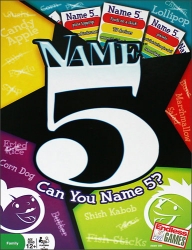 Can you name 5 things that could make a person sneeze? How about 5 TV dads? 5 video games? 5 fruits or vegetables that begin with "a"? Name 5 is the outrageous new party game that asks the easy questions you know the answers to!
Categories can be anything, Action Heros, Bodies of water, even Pizza Toppings. Think fast and rack your brain because you need to to come up with 5 answers before time runs out!
The contents of Name 5:
288 Name 5 cards
1 game board
1 die
4 pawns
30 second timer
instructions
Perfect icebreaker for ages 12 and up.
Published by: Endless Games
Information provided by retailer. Used with permission. All rights reserved. Price and availability are subject to change without notice; click through to retailer for most current pricing. Last Update: Saturday, December 23rd, 2017