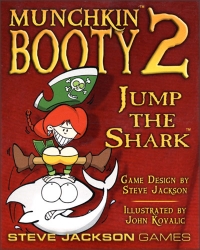 Ahoy matey! Return to the high seas in Munchkin Booty 2 - Jump the Shark! Ye're up to yer neck in evil sea creatures. Hagfish, Pool Sharks, and even the dreaded Moby Duck have come to drag you down to Davey Jones Locker. Luckily, you've brought some arms of your own like Dehydration (scourge of all sea creatures) and the Weapon of Mast Destruction to combat the scoundrels! A new Class, Explorer, comes aboard and has the power to pull cards back into his grubby, grimy grasp. Oh, and don't ferget to stab yer shipmates in their lily-livered backs and grab their booty while yer at it! After all, it is Munchkin!
Munchkin Booty 2 - Jump the Shark comes with 112 cards for Munchkin Booty.
Please note: This is not a stand-alone game. A copy of Munchkin Booty is required to play.
Published by: Steve Jackson Games
Sorry, but this game is not available at this time.
Information provided by retailer. Used with permission. All rights reserved. Price and availability are subject to change without notice; click through to retailer for most current pricing. Last Update: Saturday, December 23rd, 2017