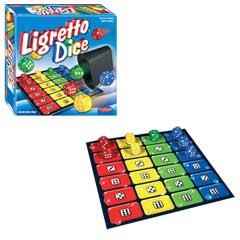 Ligretto dice is a fast and fun dice rollin' frenzy, where speed is what you need to win the game! Players roll their dice at the same time and quickly try to place them on the gameboard, matching the number rolled. This is no small feat, as players may only place a die in the row of its same color and only in numerical order!
Don't have what you need? Roll again until you get the number you want...but don't take too long, or your opponent may snag your spot on the board! Be the first player to get rid of all your dice, call out Ligretto and win!
For 2 - 4 players, aged 8 and up.
Play Time: 20 minutes.
Contents Include: gameboard, 24 dice, 4 dice cups, a bag and instructions in English, Spanish and French.
Published by: Playroom Entertainment
Sorry, but this game is not available at this time.
Information provided by retailer. Used with permission. All rights reserved. Price and availability are subject to change without notice; click through to retailer for most current pricing. Last Update: Saturday, December 23rd, 2017