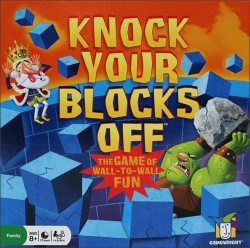 Stack 'em up... Knock 'em down! First, race to build a structure by matching up the patterns on your blocks. Then use the demolition die to knock down your opponent's crowns! Depending on what you roll, you may get to attack with an avalanche of boulders, a wall-smashing ogre, or even a fire-breathing dragon! Rack up the most victory points and crown yourself king of the block!
Contents of Knock Your Blocks Off:
30 Victory Tokens
28 Wooden Blocks
4 Structure Guides
1 Demolition Die
Rules of Play
Published by: Gamewright Games
Sorry, but this game is not available at this time.
Information provided by retailer. Used with permission. All rights reserved. Price and availability are subject to change without notice; click through to retailer for most current pricing. Last Update: Saturday, December 23rd, 2017