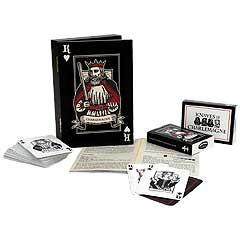 Pay homage to the history of card-playing with these old-world, woodcut illustrated cards. A 24-page illustrated rulebook includes descriptions of 12 classic card games including gin rummy, pinochle, old maid, and Knaves of Charlemagne, an original, fast-paced card game in which 2 players vie for position as an attacker or defender. The set also provides biographical info on the legendary rulers, both historic and mythological, whose faces grace the playing cards. Two full decks come in a handsome wooden king of hearts card box.
Published by: Front Porch Classics
Sorry, but this game is not available at this time.
Information provided by retailer. Used with permission. All rights reserved. Price and availability are subject to change without notice; click through to retailer for most current pricing. Last Update: Saturday, December 23rd, 2017