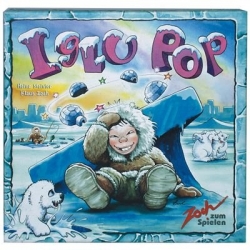 The young ice giant has a big problem: he wants to buy fish sticks but he cannot remember how many and he has nine shopping lists in his basket. So he goes from igloo to igloo and shakes each. In each he listens to the delicious fish sticks bouncing off the igloo walls. When he thinks that the igloo in his hand has the same number of fish sticks as one of his shopping lists he takes it home.
When he gets home there are no fish sticks in the igloo. Instead wild and laughing Eskimo children tumble out of the igloo. Excitedly they shout Shake us again! That was great fun! This is super thinks the young ice giant. Now I have found some new friends to play with! And he promptly forgets all about his shopping lists.
Igloo Pop is a children's game where players shake plastic igloos in an attempt to identify how many beads they hold. It takes a steady hand and well-trained ear to be able to determine how many beads are inside an igloo. If the guess is correct, that player receives the card (worth points) as a reward. If the guess is incorrect, that player loses the chip used to mark the igloo. The game is finished when one player has no chips left, or when all of the cards have been claimed!
Age range: 7 and up / Number of players: 2 to 6 / Play time: 15 to 20 minutes
Manufacturer: Rio Grande Games
12 igloos, 60 talers, 12 stickers, 90 glass beads, 33 cards, 1 rule booklet
Published by: Rio Grande Games
Information provided by retailer. Used with permission. All rights reserved. Price and availability are subject to change without notice; click through to retailer for most current pricing. Last Update: Saturday, December 23rd, 2017