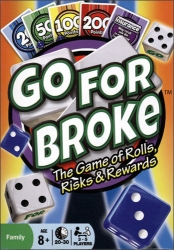 Will you claim victory? Or will you roll "Go For Broke"? Go For Broke is the game of rolls, risks and rewards, a fast-paced game where you can risk it all to get rewards and win! Roll as long as you dare to claim first a 20, then a 50, then a 100 and finally a 200 point card. Pick up "insurance" on the way. But, watch out - if you roll "Go-For-Broke", you're busted and lose your gains in the current round! All players who earn 200 points will face-off in an intense playoff round.
Contains: 7 special dice, 20 reward cards, 10 insurance cards, Illustrated instructions
3-5 Players
For ages 8+
20-30 Minutes to play
Published by: Winning Moves Games
Sorry, but this game is not available at this time.
Information provided by retailer. Used with permission. All rights reserved. Price and availability are subject to change without notice; click through to retailer for most current pricing. Last Update: Saturday, December 23rd, 2017