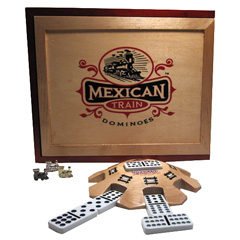 Mexican Train Dominoes, referred to by many as Trains, is a popular dominoes game where players work to dispense all the dominoes in their hand by playing them onto one or more chains (or trains) emanating from the central hub station. Front Porch Classics Mexican Train Dominoes feature the finest materials including an elegant wooden box, a solid wood train station, cast metal trains and 91 tournament style double twelve color dot dominoes.
For 2 - 8 players, ages 8 and up.
Contents Include: Wood Storage Bow with Felt Lining, 1 Wooden Train Station (Hub), 8 Cast Metal Trains, Set of Double Twelve Color Dot Dominoes, Score Pad and Instructions.
Published by: Front Porch Classics
Information provided by retailer. Used with permission. All rights reserved. Price and availability are subject to change without notice; click through to retailer for most current pricing. Last Update: Saturday, December 23rd, 2017