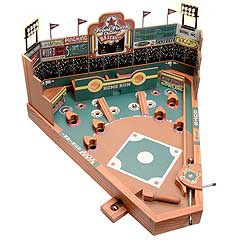 Welcome to the highest quality home baseball park available. For the first time, players can play under the working stadium lights. New features allow players to keep track of the innings and the score as the base runners round the bases. The entire family can experience America's greatest pastime with Front Porch Classics Baseball. This exquisitely detailed wooden pinball-style game provides fun on the grandest of scales. Players young and old launch the pinball and swing the bat to hit singles, doubles, triples and home runs. This heirloom quality piece will proudly display in your living room or family room all year long.
For 1 player, ages 8 and up.
Contents Include: 1 Wooden Pinball-Style Baseball Game,. 3 Metal Balls, 4 Flags, 1 Ball / Flag Storage Bag, 2 Working Light Units, 5 Metal Pegs for use during game in the outs, innings and base runner tracks, scorecard and instructions.
Note: Each light unit requires 3 AA Batteries (not included), 6 AA Batteries total required. Alkaline Batteries recommended.
Published by: Front Porch Classics
Information provided by retailer. Used with permission. All rights reserved. Price and availability are subject to change without notice; click through to retailer for most current pricing. Last Update: Saturday, December 23rd, 2017