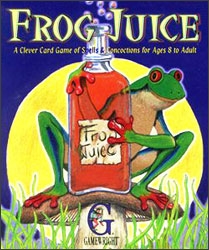 Mix potions and concoctions in this card game of matching and counting ingredients! Complete a potion and earn the points that the ingredients are worth. To mix a disappearing potion you need a unicorn horn and bats, then poof you have 10 points.
Contents of Frog Juice:
44 Ingredient Cards
15 Power Cards
Rules
Published by: Gamewright Games
Sorry, but this game is not available at this time.
Information provided by retailer. Used with permission. All rights reserved. Price and availability are subject to change without notice; click through to retailer for most current pricing. Last Update: Saturday, December 23rd, 2017