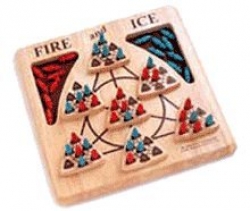 Fire and Ice is a Mystic Struggle for a Great Line of Power! This is a two-player abstract strategy game with a twist! Players actually place opponent's pieces as they move to gain control of the islands. Capture three islands in a row, by controlling three points in a row on each.
Fire and Ice is a strategic, move-and-place game with shifting strategies, that increases in complexity until one player wins. There is a minimum of 9 moves each, and a maximum of 24 moves for each player. A new move gives depth and fluidity to this game of few rules, on a board of extraordinary symmetry.
For two players, ages 8 and up. This quality wooden game is a Mensa Select award winner!
Published by: Out of the Box
Information provided by retailer. Used with permission. All rights reserved. Price and availability are subject to change without notice; click through to retailer for most current pricing. Last Update: Saturday, December 23rd, 2017