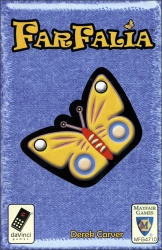 This a trick-taking card game, with the natural enthusiast in mind! As research in the biological science requires a careful eye and meticulous thought, so does this card game - as only one specimen may be removed from the collection. A fun and suitable card game for both kids and adults!
The naturalist magazine Farfalia proposes five subjects that their enthusiastic followers must find and catch... with their cameras! Research requires careful planning -- especially when only one specimen can be taken for the collection. And how much better if it is a species of Farfalia, the leading magazine in the field!
Farfalia is a 2006 Games 100 Award Nominee.
Contents of Farfalia:
One 52 Card Deck:

13 Cards in Red Suite
13 Cards in Blue Suite
13 Cards in Green Suite
13 Cards in Orange Suite

25 Subject Cards (Strawberries, Leaves Fishes, Seashells, & Butterflies)
10 Special Wild Cards
5 Team Cards
Instructions (English, German, French, Italian)
Published by: Mayfair Games
Information provided by retailer. Used with permission. All rights reserved. Price and availability are subject to change without notice; click through to retailer for most current pricing. Last Update: Saturday, December 23rd, 2017