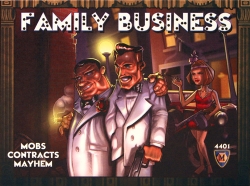 Family Business is a fast and furious card game, where players assume the roles of mob families. The goal is to be the last family standing. You and your fellow mobsters will battle it out on the mean streets, using a combination of mobster cards, attack cards, rescue cards, and counter cards. As family members are placed on the "hit list," they can either seek "police protection", use "family influence", take it "on the lam", do a "pay off," and more! Family Business takes players to a new level of backstabbing and retaliation!
Contents of Family Business:
56 Action Cards

31 Attack
12 Counter
13 Rescue

54 Mobster Cards

6 Families with 9 Mobsters Each

R.I.P. Card Tray
Rules
Published by: Mayfair Games Inc.
Information provided by retailer. Used with permission. All rights reserved. Price and availability are subject to change without notice; click through to retailer for most current pricing. Last Update: Saturday, December 23rd, 2017