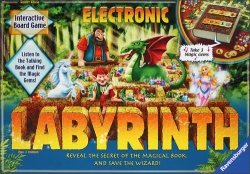 Collect the magic gems and free the Wizard in Electronic Labyrinth! The enchanted Labyrinth is in danger! The evil witch Grimelda banished the wise wizard Akata, guardian of the Labyrinth, into a magic book. Can you break her evil spell and free the wizard? But beware! Dangers lurk everywhere. Grimelda has put a curse on anyone who has tried to save him and turned them into mythical creatures!
The game comes with a "book" containing electronics. This book takes care of all the interactions with the inhabitants of the labyrinth. Whenever a player interacts with an inhabitant, he pushes the corresponding buttons from the book, and the book will respond by telling the player his assignment, reward, etc.
Use the magic book to help the Labyrinth dweller. They will reward you with the magic gems you'll need to defeat Grimelda. Labyrinth's interactive electronics make this game aMAZEingly different every time you play!
Requires 3 'AA' batteries (not included).
Contents of Electronic Labyrinth Interactive Board Game:
1 Playing Board
1 Magic Book
37 Labyrinth Cards
17 Object Cards
5 Treasure Chest Cards
4 Mission Scrolls
4 Magic Keys
4 Playing Pieces
60 Gems
Instructions
Published by: Ravensburger Games
Information provided by retailer. Used with permission. All rights reserved. Price and availability are subject to change without notice; click through to retailer for most current pricing. Last Update: Saturday, December 23rd, 2017