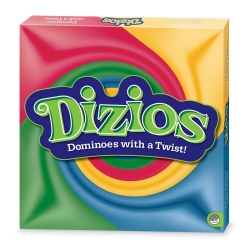 Dizios is the bright, bold and brain-bending domino game with a dizzying twist! Take turns placing tiles into the grid by matching up edges, and earn points according to the pieces on the board that your tile touches. Includes 71 glossy, thick chipboard game tiles. 2 or more players.
2010 Mensa Favorite Brainy Games Winner
Tiles are placed down one by one to connect colors and create a flowing pattern
Players take turns placing tiles with matching edges; points are earned according to the pieces on the board your tile touches
Includes 71 glossy chipboard game tiles
2 or more players
Ages 6 and up
Published by: MindWare
Sorry, but this game is not available at this time.
Information provided by retailer. Used with permission. All rights reserved. Price and availability are subject to change without notice; click through to retailer for most current pricing. Last Update: Saturday, December 23rd, 2017