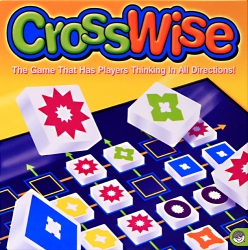 CrossWise is an abstract strategy game for 2 players or teams that will have you thinking in all directions. Players earn points by matching three or more Shape Tiles across the rows while their opponents do the same in columns. You'll have to think ahead because every tile you place also scores points for your opponent! Plan ahead for a double play, shift shapes to block your opponent, and trade tiles to earn big points. Watch out though - Action tiles let players move tiles unexpectedly! The game is over as soon as the last open space on the board has been filled with a tile. The player or team with the most points wins CrossWise.
Contents of CrossWise:
Game Board
60 Wooden Tiles
Instruction Booklet
Score Pad
Published by: Mindware Games
Sorry, but this game is not available at this time.
Information provided by retailer. Used with permission. All rights reserved. Price and availability are subject to change without notice; click through to retailer for most current pricing. Last Update: Saturday, December 23rd, 2017