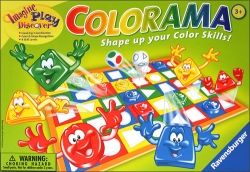 Colorama will have your kids learning their shapes and colors while having fun! It improves hand-eye coordination and color and shape recognition. There are 4 levels of play that advance with your child's growing skills. To play, place all the pieces in their places and roll the dice. Find the piece that matches both the color die and the shape die. The player who collects the most pieces wins! Also suitable for solitaire play. And with the quality construction and materials Ravensburger is know for, this game will stand up to repeated play!
Colorama includes:
40 game pieces
1 color dice
1 shape die
instructions
Published by: Ravensburger Games
Sorry, but this game is not available at this time.
Information provided by retailer. Used with permission. All rights reserved. Price and availability are subject to change without notice; click through to retailer for most current pricing. Last Update: Sunday, June 3rd, 2018