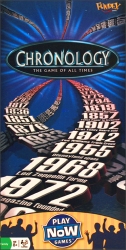 Chronology is a game for all time! Place five events from four categories (Inventions and Discoveries, History, Sports, Arts and Entertainment) in chronological order to win the game. Was Pac-man introduced before the mini-skirt? Did the U.S. government begin giving hurricanes men's names before or after the first time the U.S. hosted the World Cup?
Now you're playing Chronology, the challenging time line game. Place events in time and put time in its place. Place 5 events in order and win the game! Featuring 200 event cards, it's time you played Chronology! Six game trays and instructions are included.
Published by: Fundex Games
Sorry, but this game is not available at this time.
Information provided by retailer. Used with permission. All rights reserved. Price and availability are subject to change without notice; click through to retailer for most current pricing. Last Update: Saturday, December 23rd, 2017