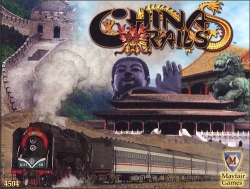 A part of the Empire Builder Series, China Rails offers the adventure of railway networking, on a geographically accurate map! Conquer the obstacles of both man-made and natural disasters, as you connect railroad trade routes across the vast country of China. Your goal is to deliver goods and people from one city to another, trying to accrue as much revenue as possible. Only the player that can build the most efficient network will become the "Minister of Railroads."
Contents of China Rails:
1 Puzzle Cut Game Board
100 Load Chips
1 Sheet of Load Labels
2 Decks of Cards Including:

136 Demand Cards
20 Event Cards
12 Two-sided Locomotive Cards

6 Wipe-Off Crayons
6 Pawns
1 Pack of Money
1 Rulebook
Published by: Mayfair Games Inc.
Information provided by retailer. Used with permission. All rights reserved. Price and availability are subject to change without notice; click through to retailer for most current pricing. Last Update: Saturday, December 23rd, 2017