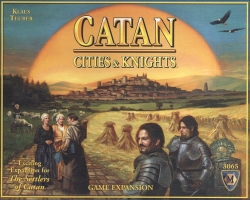 In The Cities & Knights Catan Game Expansion you engage in the defense of Catan and compete to build the three great metropolises of Catan. Each of these magnificent centers are even more valuable than cities and are safe from the dangerous Wild Barbarians. You must invest in city improvements, which you acquire using commodities of trade: coin, paper, and cloth. If you improve your culture, muster your knights, and enrich your cities, you will be the master of the great realm of Catan!
This Revised Edition with beautiful new artwork is completely compatible with the original Settlers of Catan and the original Cities & Knights of Catan.
Please note: This is not a stand alone game. A copy of The Settlers of Catan is required for play.
Contents of Cities & Knights Game Expansion:
36 Commodity Cards, Including Coin, Paper, and Cloth
54 Progress Cards, Including Trade, Politics, and Science
6 Victory Point Cards
3 Wooden Metropolis Pieces
3 Metropolis Tokens
1 Wooden Merchant Figure
1 Custom Event Die
1 Wooden Barbarian Ship
24 Wooden Knights
12 City Walls
4 Development Flip-charts
1 Sea Frame Piece with Spaces for Moving the Barbarian Fleet
Game Rules (includes overview & Almanac)
Published by: Mayfair Games
Information provided by retailer. Used with permission. All rights reserved. Price and availability are subject to change without notice; click through to retailer for most current pricing. Last Update: Friday, September 29th, 2017