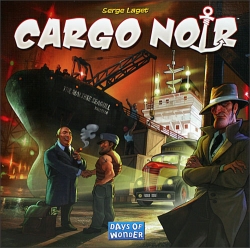 Cargo Noir is a game of illicit trading in which players run "families" who traffic in smuggled goods around the world. Dispatching your cargo ships to the safest or richest ports; judging which contraband is the hottest; and laying in wait with your gold until the time is right... will all be keys to your success, allowing you to revel in the spoils of victory! Cargo Noir is the rare trading game that works equally well with 2 players or more!
Game play revolves around a changing set of notorious smuggling ports around the world, each filled with contraband. Players dispatch cargo ships loaded with gold to these ports -- hoping to acquire goods that will later be traded for Victory Spoils. Once you collect goods, you can trade them in to add more ships to your fleet, which allows you to cover more territory. The more goods you collect, the more valuable they can be. The player with the most Spoils at game end wins!
Cargo Noir introduces a rich and immersive atmosphere, filled with evocative illustrations of the dark and seedy smuggling world of the 1950's.
Published by: Days of Wonder
Information provided by retailer. Used with permission. All rights reserved. Price and availability are subject to change without notice; click through to retailer for most current pricing. Last Update: Saturday, December 23rd, 2017