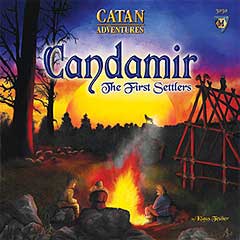 Despite the perils of your journey, and the loss of all you own: you are a settler of Catan! Now your goal is to put a roof over your head, raise sheep, and sow your fields. As you trade with fellow settlers you'll see your dream become reality!
Starting with nothing more than your own two hands, you learn skills and create new adventures along the way. Hunting bears and wolves? Building trunks and furniture? Working hides and skins? Not a problem for you! Each experience gives you a skill or product to trade as you build your new home and life in Candamir.
For 2-4 players ages 12 and up.
Contents: 1 Game Board, 48 wooden pieces (4 figures, 40 victory point cubes, 4 round discs), 48 exploration tiles, 4 character boards, 12 potion tiles, 8 equipment markers, 4 endurance markers, 16 experience markers, 90 resource and ingredient cards, 29 movement cards, 22 adventure cards, 8 character cards, 1 wooden die, 2 card holders, 1 shuffle cards board.
Published by: Mayfair Games
Information provided by retailer. Used with permission. All rights reserved. Price and availability are subject to change without notice; click through to retailer for most current pricing. Last Update: Saturday, December 23rd, 2017