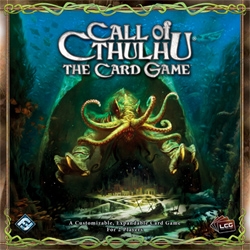 Ancient, nameless horrors dwell in the darkness, writhing in the night sky and under the earth, just beyond our senses. In Call of Cthulhu: The Card Game, players take on the roles of investigators, villains, and unspeakable horrors inspired by the dark mythos of H.P. Lovecraft. Something awful lurks at the fringe of human awareness, dead gods that stir in their slumber, other worlds that press in against our own. A struggle over the fates of men is raging, and you are at its heart. Take command of brave but desperate human investigators or the monstrous and depraved servants of the Ancient Ones! Agency detectives, Miskatonic University students and faculty, and the members of the mysterious Syndicate all join the fight against otherworldly beings including Cthluhu, Hastur, Yog-Sothoth, and Shub Niggurath.
Call of Cthulhu: The Card Game is 2-player, customizable dueling game in which players command both human and monster factions. As a Living Card Game, hundreds of additional Cards are available for all seven factions, allowing players to customize the contents of this set, or create their own original decks.
The Call of Cthulhu Living Card Game (LCG) is a brand-new incarnation of the Call of Cthulhu CCG, compatible with all previous releases. Start your game experience with the Core Game, featuring several decks that can be combined in near-infinite deck combinations, Cthulhu figurines, and essential game aids for an immersive Call of Cthulhu experience.
Published by: Fantasy Flight Games
Sorry, but this game is not available at this time.
Information provided by retailer. Used with permission. All rights reserved. Price and availability are subject to change without notice; click through to retailer for most current pricing. Last Update: Saturday, December 23rd, 2017