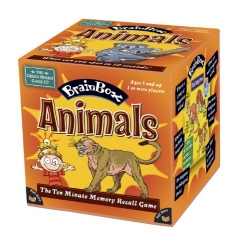 This clever memory recall game challenges players to memorize as many details as they can in just 10 short seconds! Turn the timer over, concentrate on the card and try to memorize as many details of the picture as you can. Players then determine which question will be asked by rolling the die and quiz each other on what they remember. Open their minds to geography facts, landmarks, historical figures and animals from around the world. Players study one side of the card for 10 seconds, then flip to the other side to see how many of the questions they can answer.
Keeps young minds engaged in this fast paced game of concentration and details
Fun for the whole family
1 or more players
Eco friendly green game made from recycled material
Multi cultural game
Published by: Mindware Games
Sorry, but this game is not available at this time.
Information provided by retailer. Used with permission. All rights reserved. Price and availability are subject to change without notice; click through to retailer for most current pricing. Last Update: Saturday, December 23rd, 2017