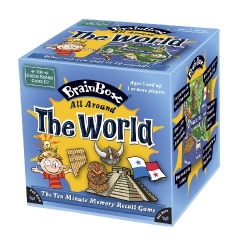 This fast-paced game keeps students on their toes as they strive to memorize as many facts as possible in only ten seconds. Great way to get students excited about history! With the Brain Box: All Around the World, players study the pictures-and-facts side of a card for 10 seconds, then flip to the other side to see how many of the 10 questions they can answer: Can you name the capital city? How many stripes are on the flag? What river flows through this country?
Keeps young minds engaged in this fast paced game of concentration and details
Fun for the whole family
1 or more players
Eco friendly green game made from recycled material
Multi cultural game
For 1 or more players, ages 8 and up.
Contents Include: 55 cards, a sand timer and 8-sided die.
Published by: Mindware Games
Information provided by retailer. Used with permission. All rights reserved. Price and availability are subject to change without notice; click through to retailer for most current pricing. Last Update: Saturday, December 23rd, 2017