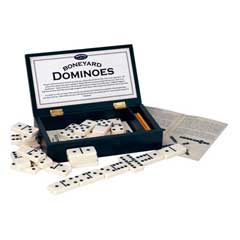 The game of Dominoes shares its diverse past with many cultures form the East to the West. Said to have originated in 12th century China and based on the paired couplings of rolling 6-sided dice, Dominoes evolved with every culture to which it was introduced. Traders of the Marco Polo era brought Dominoes to Europe in the 13th century. English immigrants, fresh from the Seven Years' War, then brought Dominoes to North America where the game evolved into the many variations we play today.
In the tradition of making games worth giving, Front Porch Classics offers two classics in this decorative game box: Block and Draw Dominoes and Mexican Train.
Contents: 1 hinged wood box, 28 double-six dominoes, 1 score pad, 2 score pencils and 1 rule book.
Published by: Front Porch Classics
Information provided by retailer. Used with permission. All rights reserved. Price and availability are subject to change without notice; click through to retailer for most current pricing. Last Update: Saturday, December 23rd, 2017