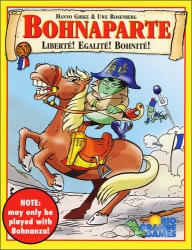 Bohnanza Bohnaparte is an expansion to the original Bohnanza card game that combines peaceful agriculture with ruthless war. In this game, players use the coins they earn farming to fund military operations and conquer foreign villages and cities. In the end, it's the one who controls the most land who is Bohnaparte and the winner! This is not a stand-alone game. The original Bohnanza is required for play.
Contents of Bohnanza - Bohnaparte:
72 player markers
50 cards
1 rule booklet
Published by: Rio Grande Games
Sorry, but this game is not available at this time.
Information provided by retailer. Used with permission. All rights reserved. Price and availability are subject to change without notice; click through to retailer for most current pricing. Last Update: Saturday, December 23rd, 2017