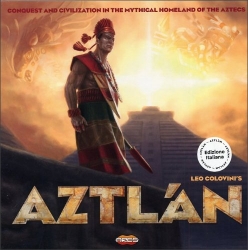 Aztlan is a strategy game with bluffing and challenging mechanics, for 3 to 4 players, set in the mythical land of Aztlan, ancestral home of the Nahuatl (Aztec) people. In Aztlan, four tribes strive to survive and prosper under the scrutiny of the gods themselves. Peaceful coexistence brings wealth and prosperity to all, but the fearful Aztec gods favor those who are mighty in war and bring to them their subdued enemies as cruel offerings. Only one of the four tribes will be granted the right to stay in this blessed land when the Time of Exile comes.
The game develops during five different epochs, each one divided in four phases. Players try to conquer the largest realm, using an intriguing and highly interactive mechanic. In each epoch, the tribes have uneven and secret strengths, so the players' strategy must be based on intuition and bluff. When winning a conflict, you are faced with the difficult choice between eliminating your enemies, or deciding to co-exist with them. Peaceful co-existence brings the opportunity to develop your own civilization and gain future advantages, but can you trust your opponent?
Designed by Leo Colovini
Artwork by Drew Baker
Easy to learn rules
Deep and Engaging Game Play
High Quality Components
Includes Aztec Gods 1 player variant
For 2-4 players, ages 13 and up
Game time of about 60 minutes
Published by: Ares Games
Sorry, but this game is not available at this time.
Information provided by retailer. Used with permission. All rights reserved. Price and availability are subject to change without notice; click through to retailer for most current pricing. Last Update: Saturday, December 23rd, 2017