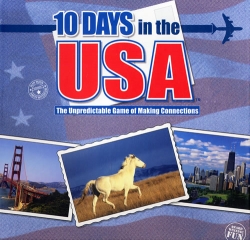 Let the journey begin! You have 10 Days in the USA - touring by plane, car and on foot. Chart your course from start to finish using destination and transportation tiles. With a little luck and clever planning, you just might outwit your fellow travelers! The first traveler to make connections for a ten-day journey wins the game.
Featuring a colorful map of the United States game board and high-quality wood pieces, this is an award-winning geography game that's lots of fun! Game comes with 50 Destination Tiles, 16 Transportation Tiles, 8 Card holders, Game Board Map, and Full Color Rules. For 2 - 4 Players, Ages 10 and Up.
Winner of the National Parenting Seal of Approval, Parents Choice Gold Award, Major Fun Award, Doctor Toy Smart Play/Smart Toy, and Mensa Select Award.
Contents of 10 Days in the USA:
50 destination tiles
16 transportation tiles
8 card holders
Game board
Full color rules

Published by: Out Of The Box Publishing

Sorry, but this game is not available at this time.

Information provided by retailer. Used with permission. All rights reserved. Price and availability are subject to change without notice; click through to retailer for most current pricing. Last Update: Saturday, December 23rd, 2017